Granite Performance Mares
No program can be successful .without the help of some outstanding mares. We have hand selected mares that fit our ideals and can pass those same great traits on.
Current Mares in Alphabetical Order
(Click on pedigree for extended pedigrees)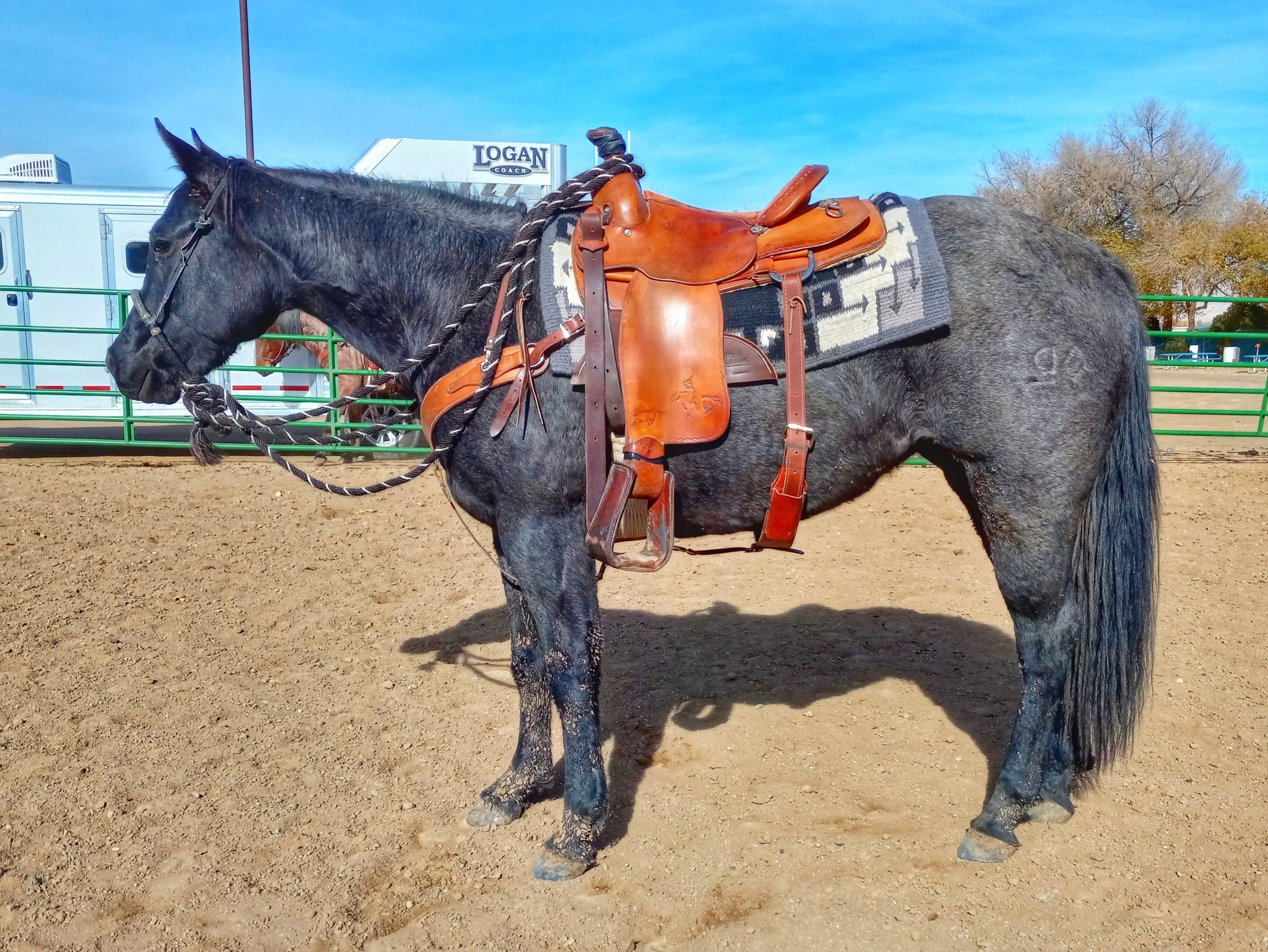 Blue Partee Vixen - 2019 Blue Roan
Blue Fox Hancock x Fritz Plenty Katy by China Fritz
"Vixen" is a FULL sister to Blue Partee Fox. She is showing all the signs that she will be just as good as Eli was and could possibly excel even further into other events beyond the roping pen. 25% Blue Valentine. 5 panel N/N through parentage.
Offspring
Bred to Metallic Cattack for 2023 foal.
Pedigree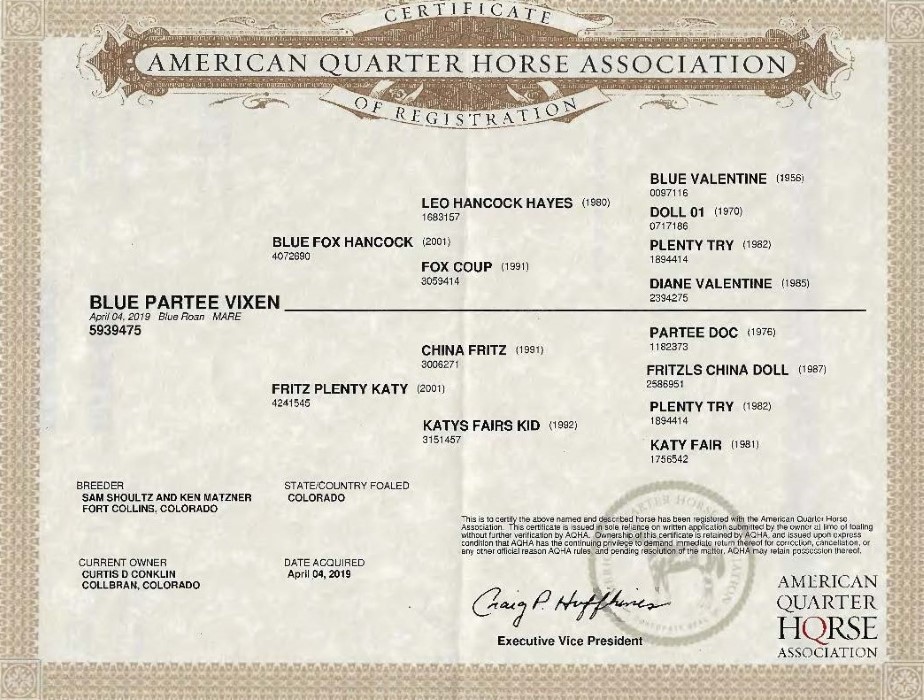 Fritz Plenty Katy - 2001 Overshadowed Buckskin
China Fritz x Katys Fairs Kid by Plenty Try
"Hops" has had a huge influence on GPH. She is the Dam of Blue Partee Fox, Blue Partee Vixen and the Grand Dam to many horses in the program. We were lucky to purchase her at the final KeSa Sale. Her disposition and conformation have proven to be very heritable traits.
Offspring
Retired
12 offspring before coming to Granite Performance Horses:
2019 – Blue Partee Vixen – Blue Roan mare by Blue Fox Hancock
2020 – Blue Partee Kid – Blue Roan colt by Blue Fox Hancock.
Pedigree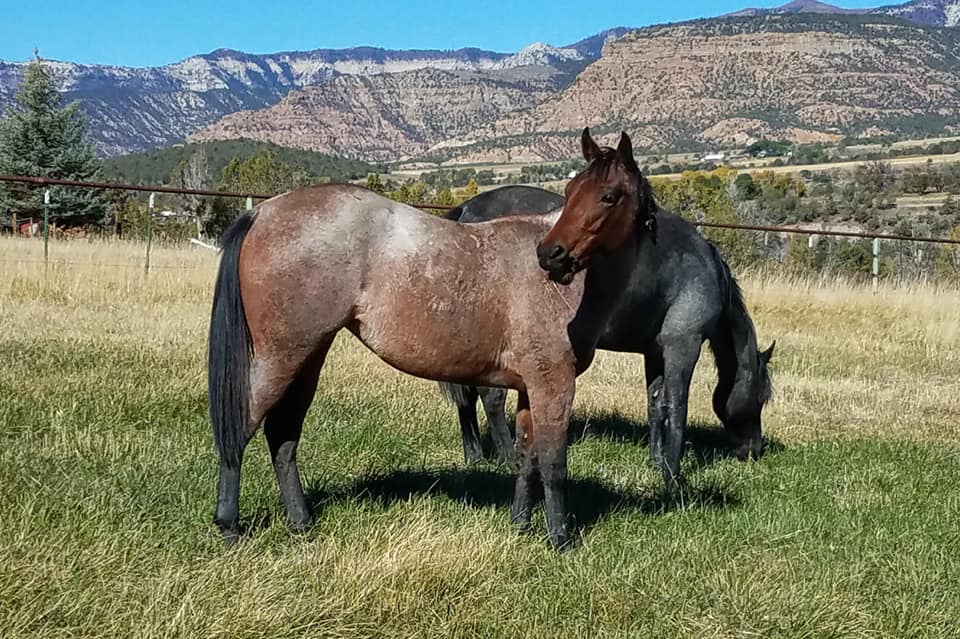 Just Tryin To Partee - 2018 Bay Roan
Blue Double Try Fox x Fritz Rosewood by Rojo Valentine
"A'ja" is sired by Blue Double Try Fox who is a full brother to Blue Fox Boy (European Reined Cow Horse Champion). She is currently in training with Ricky Wilcox in La Sal, UT. This mare has an exceptional personality and coming along nicely under saddle,  5 panel N/N
Pedigree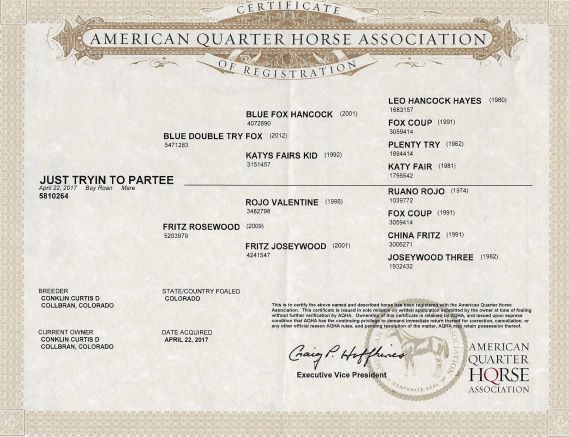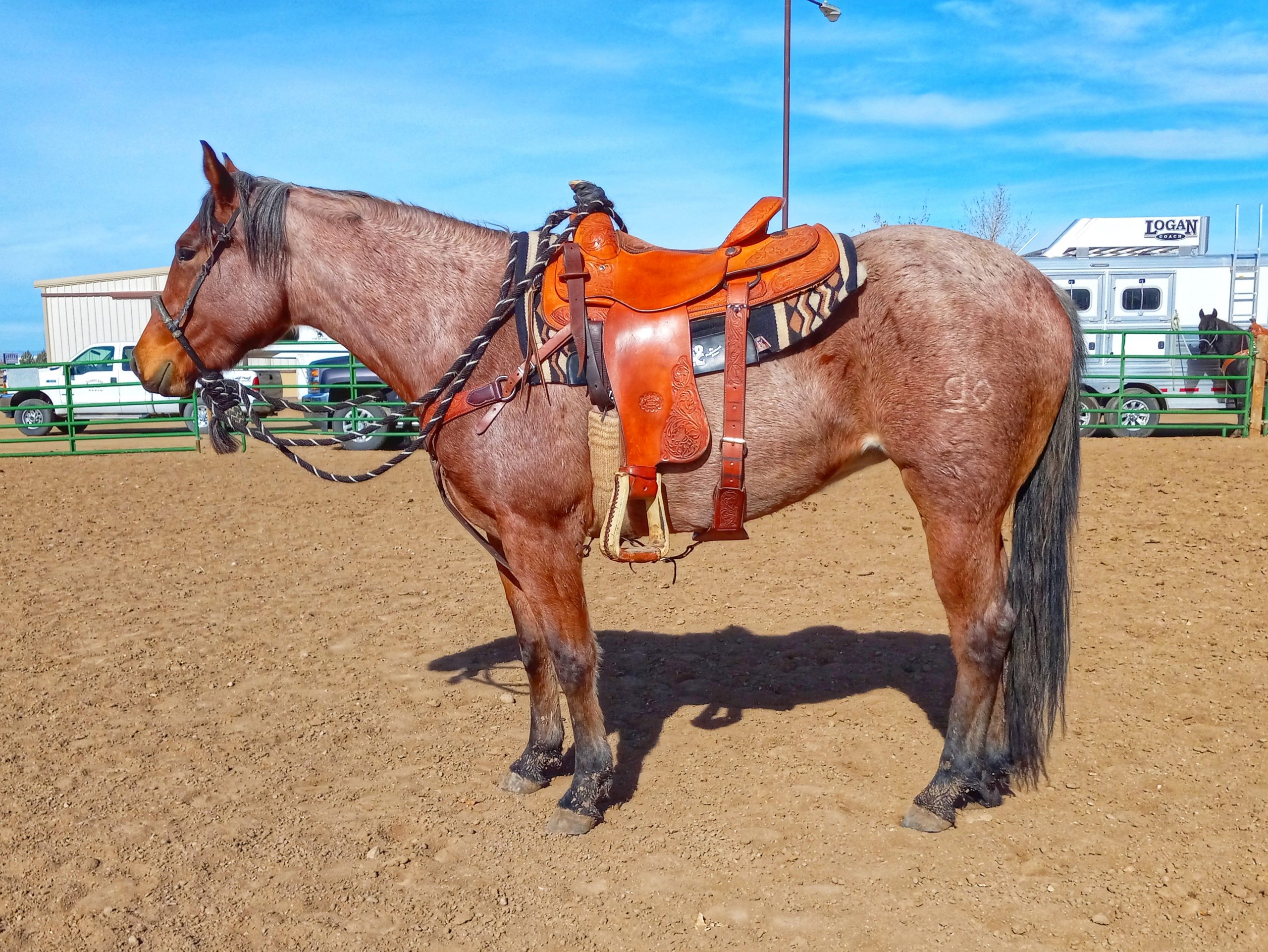 MetallicRedValentine - 2019 Bay Roan
Metallic Malice x Fritz Rosewood by Rojo Valentine
"Val" has a bright future at Granite Performance Horses. She is a strong example of crossing foundation bloodlines with more modern performance lines. 5 panel N/N through parentage.
Offspring
Bred to Stone Blue Valentine for 2023 foal.
Pedigree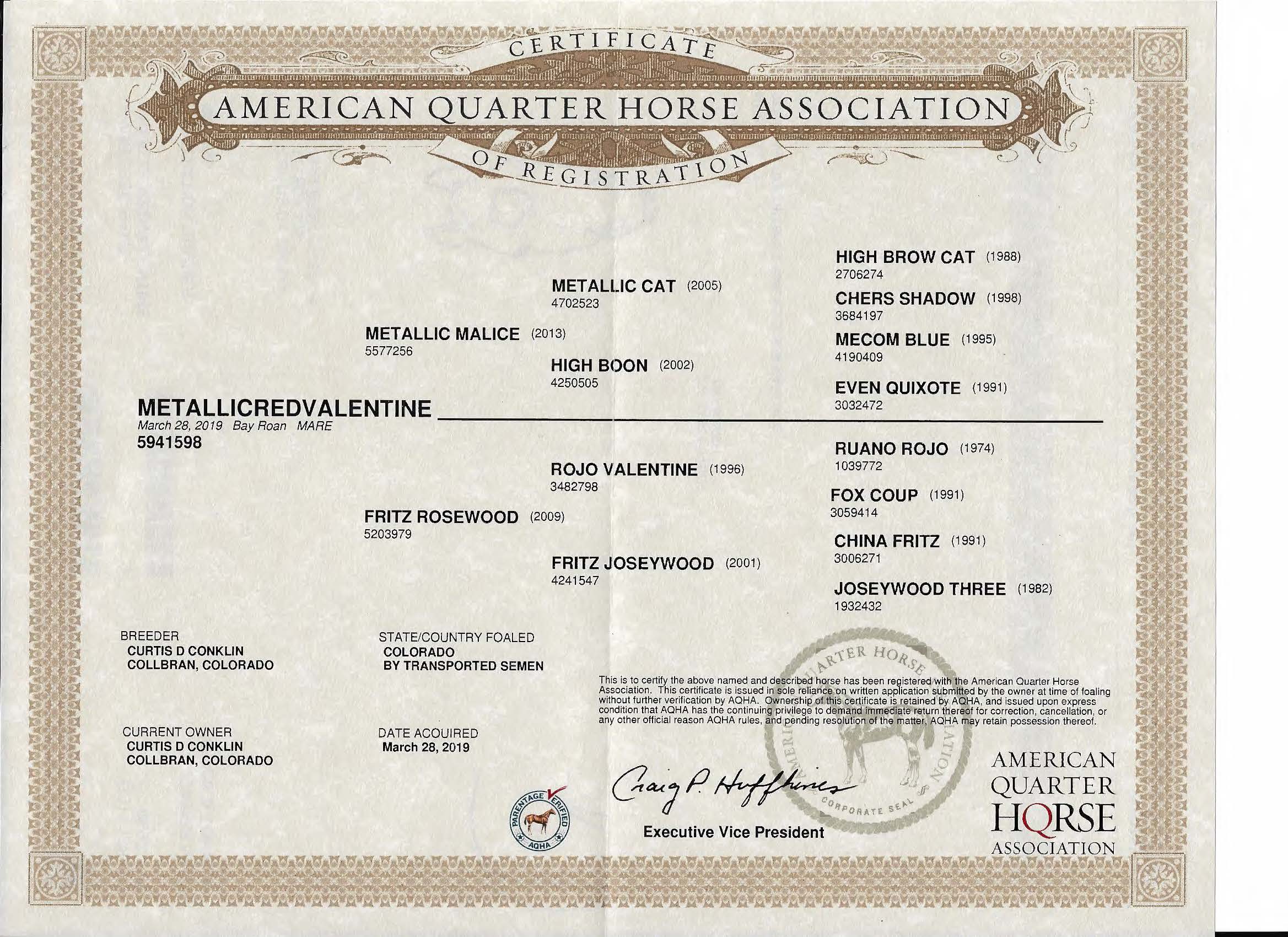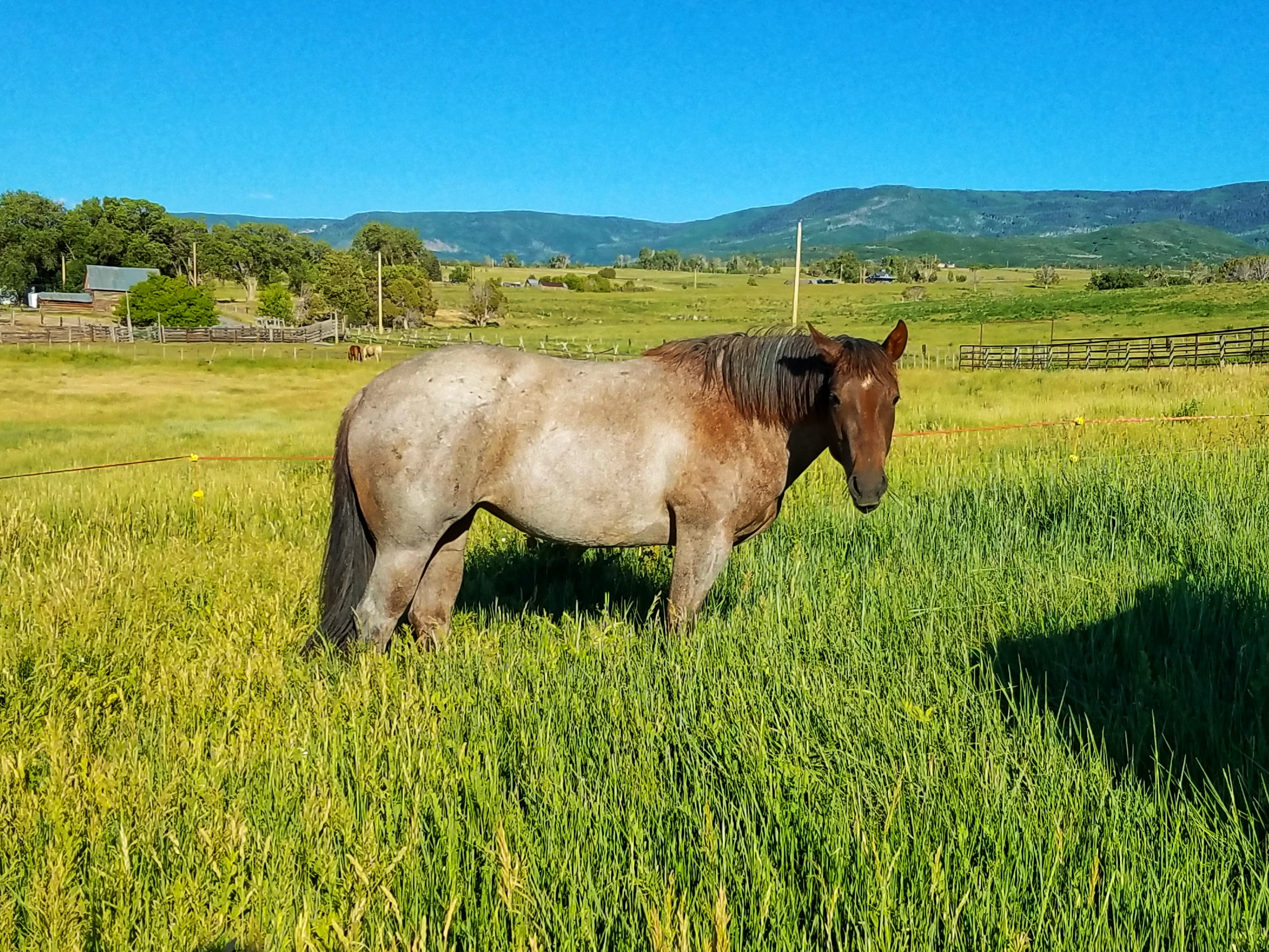 Plenty Of Partee - 2015 Red Roan
Blue Partee Fox x Fritz Rosewood by Rojo Valentine
"Maddie" is a superior example of the Blue Valentine and Driftwood cross. She not only has a great foundation pedigree but also has a more modern look. She has a great disposition, a ton of cow sense and can spin a hole in the ground!   5 Panel N/N
Offspring
2021 – Smokee Lil Fox – Bay Filly by Smokee Dreams
2022 – Smokin Blue Indica – Black filly by Smokee Dreams
Bred to CT Show Me Your Guns for 2023 foal
Pedigree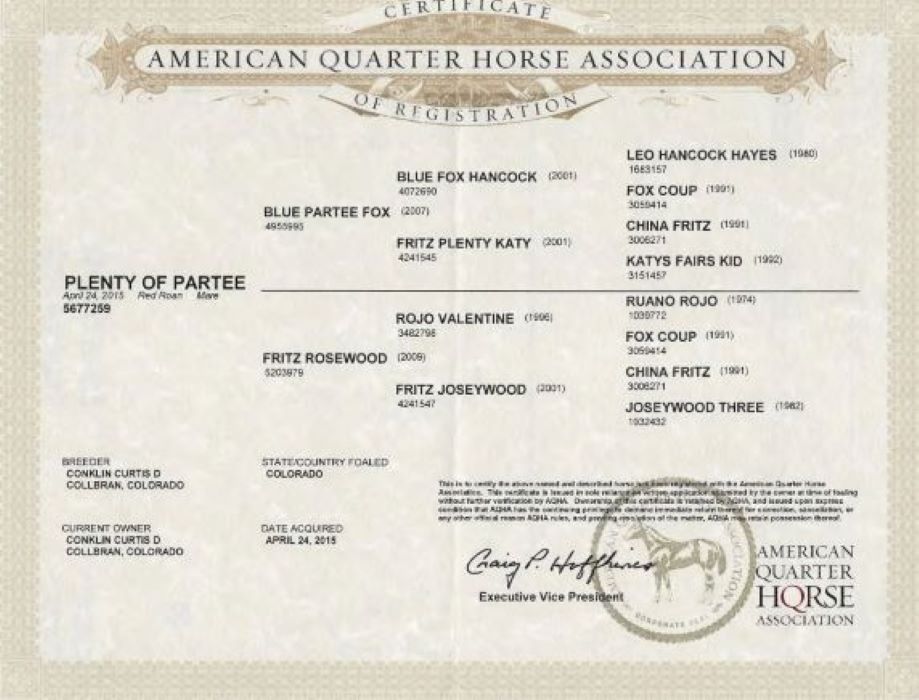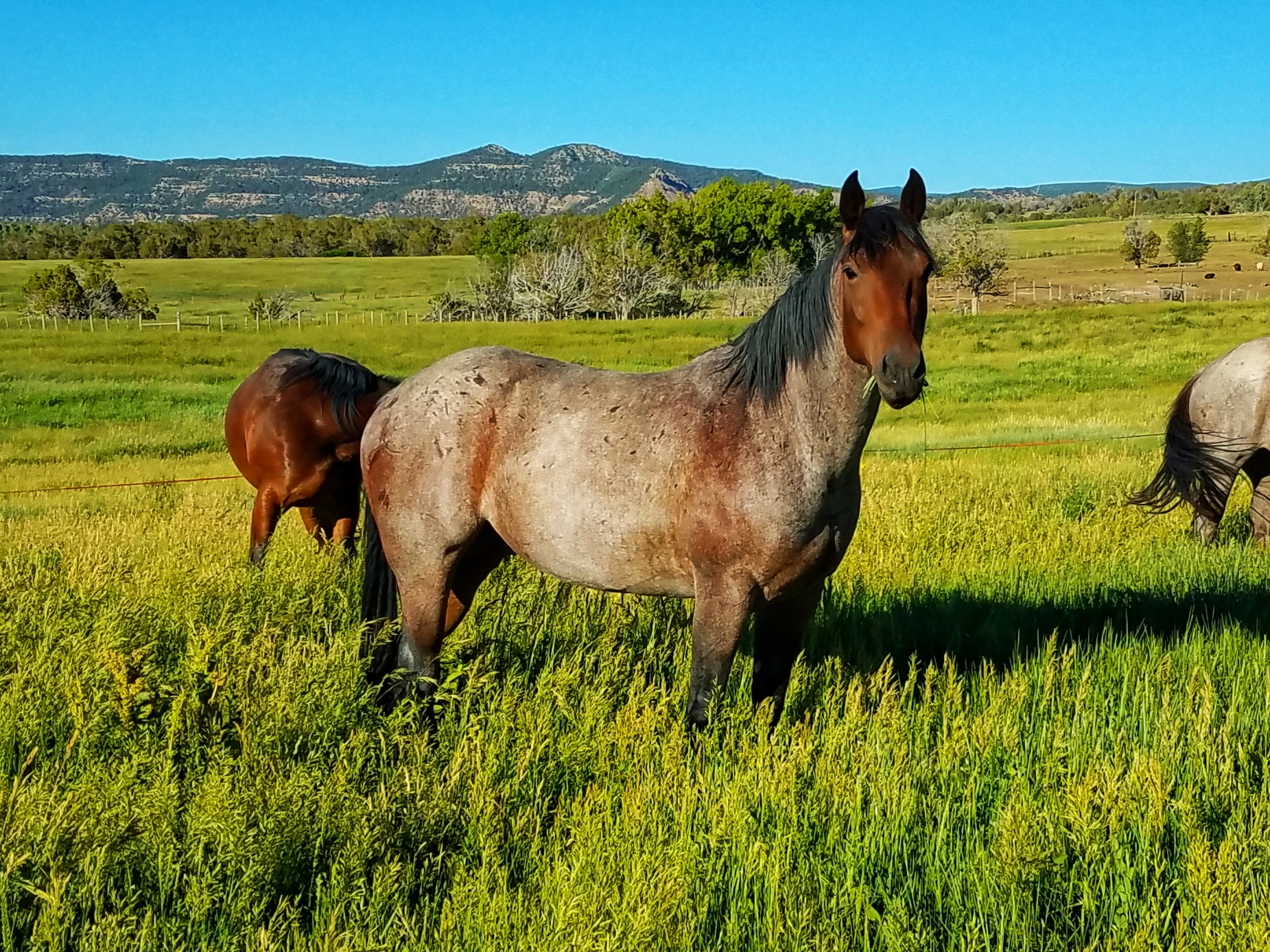 Too Hot To Partee - 2015 Bay Roan
Blue Partee Fox x Junewoods Flamewood by Mr Junewood
"Echo" probably has the most royal pedigree of all our mares. Her pedigree has multiple AQHA point earners, a world champion sire (Mr. Junewood) and an AQHA Champion (Blue Fox Hancock). She is a very athletic mare and a dream to ride. 5 Panel N/N
Offspring
2021 – Smokin At The Partee – Bay colt by Smokee Dreams
2022 – Smokin Hot Dreams – Red Roan colt by Smokee Dreams
Bred to CT Show Me Your Guns for 2023 foal
Pedigree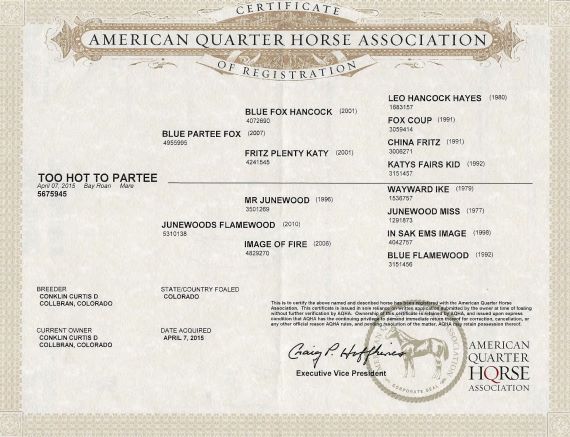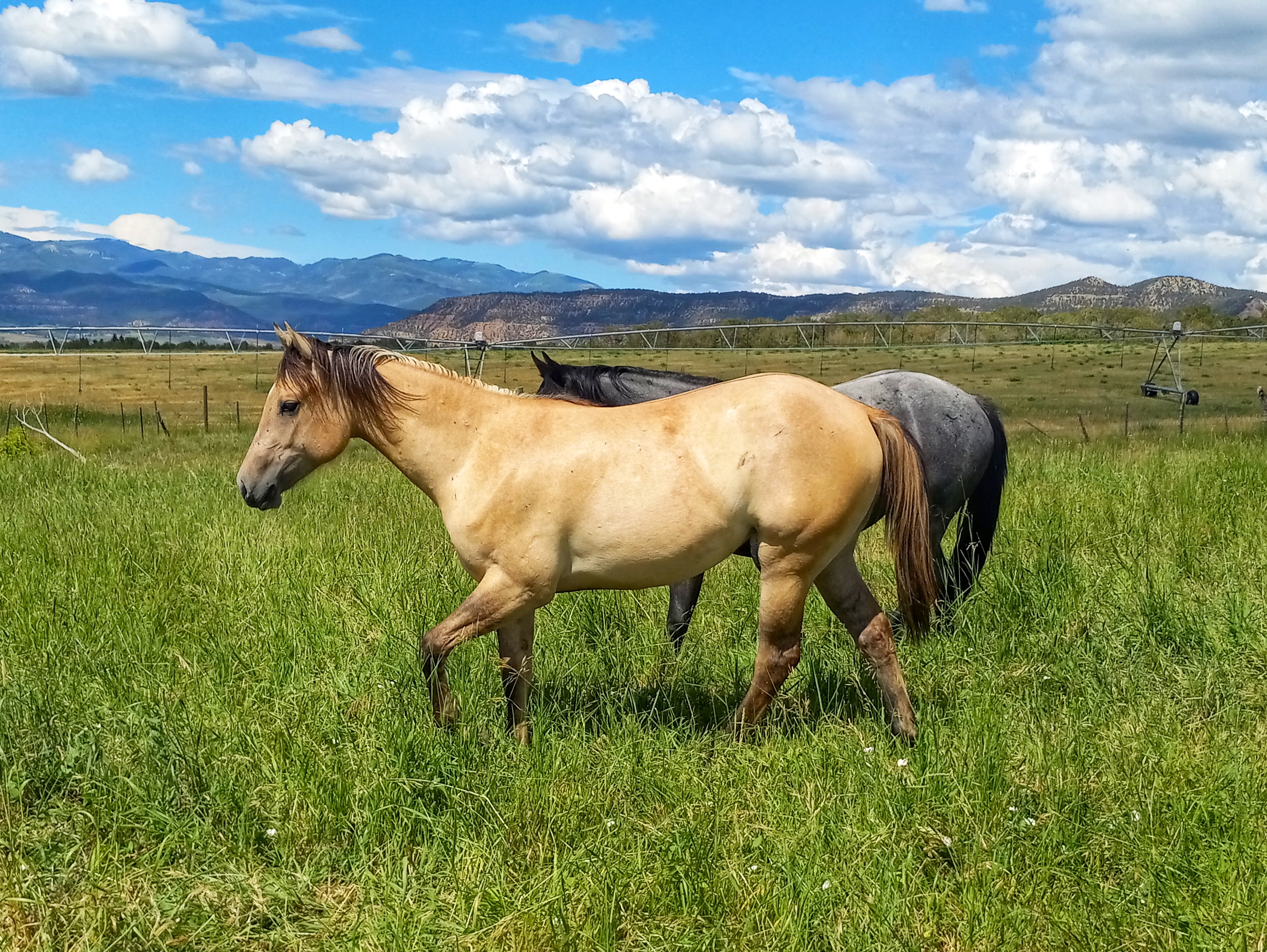 Rojo Dun Got Her Gun - 2020 Gray (Red Dun)
CT Show Me Your Guns x Fritz Rosewood by Rojo Valentine
Sired by a AQHA World Champion, "Diva" is an extraordinary example of out crossing BV/Driftwood blood on other lines. Great conformation and atleticisim  5 Panel N/N
Offspring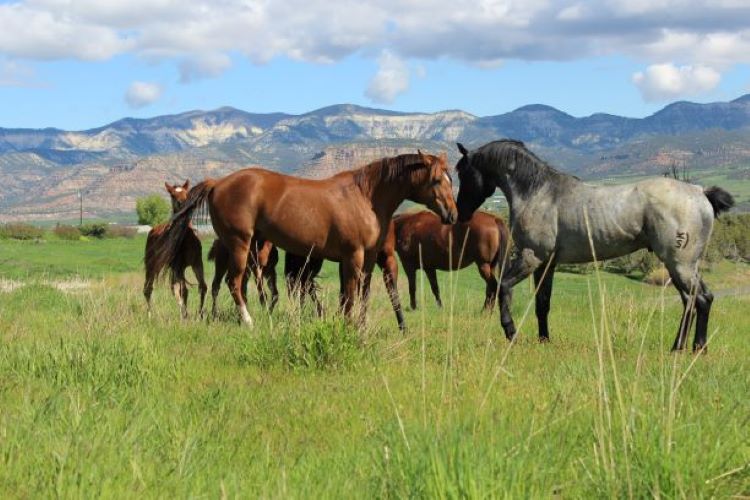 Offspring
Pedigree